Download Area
Free to use software
Our software can be downloaded and used free of charge to view documents issued to you by your supplier. It is your supplier that pays us to use our software and store your documents securely on-line.
To get the software up and running
Our service is now live and there are just 2 small programs that you need to download and they are available here.
Once you are up and running simply type in ;
DEMO then DEMO and then DEMO again and click OK to view example secure certificates.
If you are using the software to view real certificates your supplier will give you your login details.
If you are a supplier wishing to trial our service. You have all the software you need here but you will need to phone us and register the software.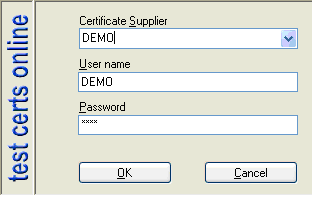 1. MySql Drivers
We use a robust and secure MySQL database on our servers and your computer needs a couple of drivers (files) so that you can talk to our database.
Once you have downloaded it, please run it (by double clicking on it). It will install the drivers for you.
2. The Testcertsonline Software
After downloading it, please run it (by double clicking on it). It installs the Testcertsonline software. By default the software runs in Client mode enabling you to view certificates but after registration, with us, can run in Supplier mode enabling uploading of certificates .
You will need a login name and password from the certificate originator (your supplier) to view their Certificates.
3. All Microsoft .net programs require the .net framework to Operate

Many computers will already have the Microsoft dot net 2 frame work and as such you should not need to download it. If you need it and are having a problem, you can download it here.
Adobe Acrobat Reader
This is only required if a Version of Adobe Acrobat Reader is not installed. (Must turn off automatic updates)
Primo PDF Printer Driver for Certificate Creation.
When creating certificates they need be printed to a PDF creator. If you do not have one already on your PC we provide a link to free creator here
Primo PDF Printer Driver Download
To run the programs correctly you will need a PC running MS Windows XP or above connected to the internet and a printer for printing certificates.
Corporate Networks Issues
Many large organisation place their users behind proxy servers and restrict user permissions. Where the local user permissions are restricted access to the registry, after the installation the user will need permissions on two registry settings "HKLM\Software\Encode IT" and "HKLM\Software\Code Computing"